April 29, 2023
Finding The One: The Quest for Love
Y'all remember what it was like being a kid at Christmas dinner with the family? We often use the phrase "like a kid at Christmas" to describe feelings of exceptional excitement and all consuming joy. While the holiday season IS so much fun as a child, it also involves too much waiting. Tortuous, butterflies-in-the-belly, "what-is-taking-so-long, it's-never- going-to-get-here" WAITING. Momma got us all dressed up but we had to wait to leave. We FINALLY got to Grandma's but we had to wait to pray before eating. AND THEN we had to wait for the grown folks to eat before we could FINALLY OPEN PRESENTS! To top it off, at some point during all that waiting some adult would feel the need to tell us to "go find something to do" while we waited. 
The nerve.
"HOW ABOUT WE JUST DOOOOO WHAT WE CAME HERE TO DO, AUNT JESSIE?" 
Of course, since I'm still alive enough to write this right now, I never actually said anything that sassy to an adult but I definitely thought it. Grown-ups are weird. 
By now you are probably wondering why I'm going on and on about Christmas in February. Listen, I'll be honest; it's mainly because I'm southern and we just aren't capable of getting straight to the point but also, waiting on THE ONE is a lot like being a kid at Christmas time.
Here you are. You're ready, just sittin' on go, but you have no control over when the good stuff actually happens. I know, honey, it's frustrating. But, unlike my Aunt Jessie, I have helpful solutions for what to do while you are waiting on Mr/Miss Right. 
So let's (finally) get to the point of all this…
Ready. Set. Go!
THINGS TO DO WHILE YOU ARE WAITING ON "THE ONE." 
1)  Interview your oldest relative and write down/record their life story. 
It's hard to imagine now but our grandparents led some crazy lives. At the age where most modern kids are getting their first jobs, they were off fighting in wars, clothing their babies in flour sacks or setting off to make their own way in the world with two pennies in their pocket-barefoot in the snow, walking uphill both ways (of course). I'm kidding about that last part, kinda. But seriously, our elders have some incredible stories to tell. Stories that are worth sharing and recording for future generations. 
If you aren't sure where to start, here's a few tips: 
1)Get them talking about their memories of THEIR oldest relatives. Or ask them what their earliest memory is. 
2)Stick to open-ended questions like "What do you remember about your childhood home?" or "What can you remember about your grandparents?" 
3)Use old pictures or family heirlooms to start the conversations. 
Whether you learn something new or just hear the same stories you've heard your whole life, it will surely be time well spent. The older generations have so much they can teach us about life and love and appreciating each moment of each day. 
2)Learn a signature recipe 
Fellas, I know. I know You grill a mean steak. That's great!  But…what else? 
And listen Ladies, if you consistently get asked to bring drinks or plates/napkins to family gatherings, maybe it's time to learn a few signature recipes. Every adult needs a few tasty treats to pull out in a pinch. Whether you venture out on your own to experiment or ask someone to teach you, cooking and baking are useful and super rewarding skills. No more excuses. Here's my chocolate chip cookie recipe. You can claim it as your own; I don't mind a bit.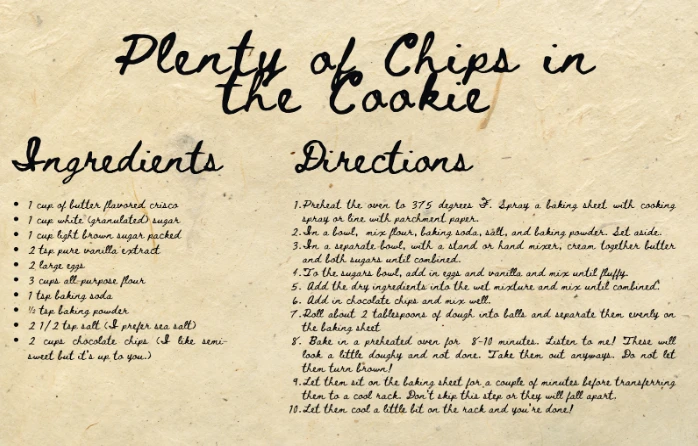 Enjoy!
3) Take an active role in church or community organizations. 
A big brain and big muscles are attractive and all, but do you know what's even hotter? A man that uses said body parts to make the world a better place. Say it with me ladies "SERVING IS SEXY!" And I'm not just talking to the guys here, obviously, we all need to do our part. There are so many different options nowadays, there's really no excuse for someone not to be "giving back" in some way or another. And (as if you really need another reason) there's tons of mental health research that shows that helping others decreases your chances of depression, reduces stress and adds to better overall physical health and well being. 
Seriously, what are you waiting on? A sign? 
Ok. 
Here's your sign.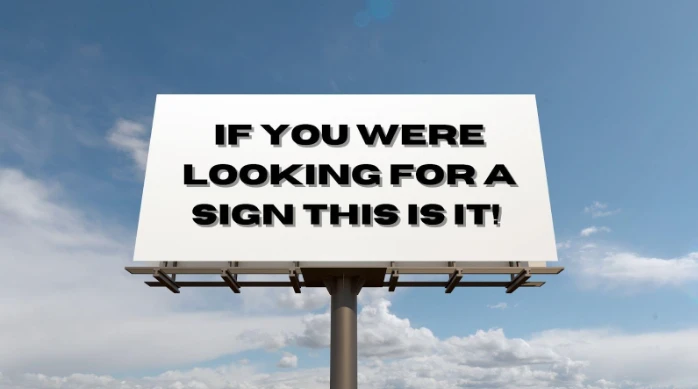 How to get started:
Start with your local food bank or churches to see if they have a need that you can fill.

Investigate your community civic organizations to see if it's something you might be interested in. 

VolunteerMatch is a great resource for matching volunteers to specific needs in their communities 

These are a few of my favorite global organizations if your local searches are coming up short. 
Bottom line, in order for our communities (and the world) to thrive, all of us able bodied people need to get out there and help those in need. 
Just do it! 
Please. 
4) Take your parents or grandparents on a "date."
Yes, I know. I'm back talking about spending time with the old people again. But man, they're great, ya know? And listen, we're talking about the people who made YOU who YOU are, right? What better way to thank your Momma for all she's done for you, than to take her on regular dates so she can brag to her friends about what an amazing kid she raised.  And don't you dare let them pay. Even if you have to sneak your debit card to the waiter, you foot that bill. Take them to their favorite restaurant or a movie they might like. Or try something a little out of their comfort zone and experience something new together. The cool part about hanging out with your parents as an adult is that you get to experience them as friends and not just the people that raised you. If you don't hang out much with your parents in social settings, they just might surprise you! 
5) Start a gratitude journal.
This is something that you can start today. Like right now, as soon as you finish reading this article. In our modern world of 24-hour news sources and social media feeds full of pictures to compare our own lives to, it's easy to be a little bitter or at the very least disheartened at the current state of affairs. This becomes increasingly true if you are in a season of waiting. I get it. Don't beat yourself up, most people get discouraged and negative sometimes. Take heart, darling. There's an easy fix! If life isn't going according to plan, the quickest way out of the pit of despair is gratitude. Seriously, it's really hard not to be happy if you are consistently thinking about all the great stuff about your life. Start right now and jot down a few things to thank the good Lord for today. (If you don't talk to God that's ok, just know that I'm praying for you, though) 
Go ahead, write them down and come back. I'll wait. 
………………………………………….
Didn't that feel kinda good? Now, try to make this a regular thing. Twice a day, write down a few things that you are grateful for. Set alarms on your phone if you need reminding. Do this every day and I promise you'll see a crazy shift in your thinking. You'll start to see more positive things right there in your face, in the moment, every day. The lists will get easier to make and maybe even get longer. You might even rub off on other people. Do it. I triple-dog dare you!
Y'all, I know how hard it is to wait. But I hope you've found some ideas in this list to fill your time in positive and rewarding ways. Whether you have a lot of time to give or just a little, spending your free time focusing on serving others and practicing an attitude of gratitude is the perfect start to a fulfilling and happy life, no matter your relationship status. 
(With an added bonus: when you follow through with some of these, answering the question "what do you do in your free time" will be a whole lot more interesting. Yep. You're welcome.) 
Until next time..
Love y'all and good luck,
Kelly Ann