Senior Dating: Find Single Seniors in the  United States
Toby Keith said it best: 
You've got a few years on you now. There was a time, back in your prime, when you could really lay it down …  but you're as good once, as you ever were. 
Okay, those weren't the exact lyrics, but you can relate.
The idea of dating as a senior can be unsettling. You're set in your ways, you like your routine, and frankly, it feels like you don't have time to; but you find yourself longing for companionship.
At FarmersOnly, we help single seniors find friendship, companionship, and yes, even love. After all, age IS just a number. Let us help you enjoy your senior years a little more. 
Our platform takes the pressure off while giving single seniors the opportunity to connect with others without feeling pushy. Ready to learn more? Keep reading.
Why Does Senior Dating Seem So Hard? 
Finding love as a senior can be intimidating. You're starting all over again, but not necessarily starting fresh. As you've aged, you've gained "extra baggage" which can make dating feel:
Unappealing, or 
Impossible. 
You've gained a few more laugh lines, your values have become clearer — you know what you want and what you don't want. But, sometimes, your world gets "smaller" in a sense. Your kids are grown. You find yourself staying in more than you used to. 
Conversely, as the clock continues to tick, it feels as if you can't let fate decide, and senior dating websites and apps, like FarmersOnly, are becoming increasingly popular. 
Seniors are becoming more comfortable using technology, including the internet. Social media, websites, smartphones, and dating websites are catering more and more to the senior population, making it easier than ever for seniors to not only join a dating website but to find companionship. 
What Is FarmersOnly Doing for Senior Singles?
Love can come at any age. 
FarmersOnly is dedicated to helping seniors feel more comfortable returning to the dating scene. 
You can browse singles in your area, flirt, or start a conversation to get to know your potential love matches, all online, before deciding if meeting in person is right for the two of you. 
No more dealing with your friends from BUNKO night trying to match make with the neighbor down the street. Gone are the days of feeling too old to put yourself out there. You don't have to worry about personalities clashing. 
With FarmersOnly, even seniors dating get to experience the butterflies you once experienced during young love. Get giddy for the phone calls. Remember what it feels like to get ready for your first date. 
Whether you're looking for something more serious, like finding a companion to continue life with, or something more casual, like an occasional date night with very few strings attached, FarmersOnly is the senior dating site for you. 
You can register on our site, and browse the eligible men or women online who also live in rural settings and share an appreciation of the rustic settings of the farm, homestead, or even the petting zoo.
The ease with which you may find someone with shared values — a love of the open plains, the latest methods of organic fertilization, or perhaps a strong belief in animal welfare — increases when you consider the thousands of potentially like-minded members on our site who are looking for love.
See Our Senior Dating Success Stories
Our senior dating success stories speak for themselves.
Take a look at Nancy and Jeff, who, after two weeks of conversing online, and a wrong turn — literally, Jeff took a wrong turn to get to Nancy — married in 2019!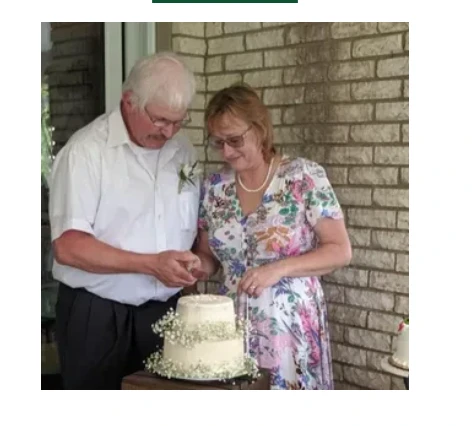 We have connected hundreds of single seniors who are ready to start dating. Whether they have almost given up on finding love or are newly single, our clients love the experience they get with FarmersOnly.
A Step-by-Step Guide to Senior Dating
If you're ready to get into the senior dating pool, FarmersOnly is ready to help. Here's how to get started:
Set up your free account with FarmersOnly: Once you've registered with FarmersOnly, you'll have access to our database of singles before selecting the dating package that best meets your needs. 

Create your perfect profile: This is where the fun begins! Let your personality shine through. Your profile is your first impression. Be as transparent as possible — let others know exactly what makes you, you! Choose a profile picture that you feel good about.  

It's time to start browsing senior singles: Once your profile is complete, it's time to check out singles in your area. Log in to FarmersOnly and begin your search. 

Send a flirt or start a conversation: With FarmersOnly, you don't have to jump into any serious conversations. You don't even have to talk right away. Send a "flirt" and see if you get one back. Or, if you're feeling bold, start a conversation. Nothing is stopping you. 

Get to know your potential love match: You've made a connection and are ready to learn more about your potential match. Our members can spend weeks, even months, getting to know each other online before speaking or meeting in person. Other seniors decide there's no reason to wait and meet right away. With FarmersOnly, you have complete control.

Have your first conversation: Chatting online is a great way to break the ice, but you still like the traditional phone call, hearing the voice, and the laughter, from the other side of their profile picture. Take it to the next level and schedule a phone or video call and get that much closer to each other. 

Go on a date: You've chatted online. You've spent hours on the phone. The butterflies are flying as soon as your phone rings and you see it's your match calling. Finally, you're ready to meet in person. First dates don't have to be intimidating. We recommend doing something that excites you both, like a sporting event, dance lessons, or even a simple night of playing cards.
For senior singles, online dating has never been more fun. Register for your free membership and start browsing singles in your area today.
Senior Dating FAQs
What Is the Best Dating Site for Seniors?
This might come off a little overly confident, but we don't mean it to be that way. On the contrary, we think FarmersOnly is the best rural dating site. Why? It's simple. 
For starters, our seniors love how easy our platform is to use. From setting up your profile to sending flirts and connecting in our chat rooms, FarmersOnly makes it easy for seniors to date online.
But most importantly, we have thousands of singles registered and waiting to meet their match. With such a huge database of senior singles, it's easy to meet and get to know people in your area.
How Is Senior Dating Easier Online?
Aging can be isolating, especially if you're doing it without a partner. Finding community, companionship, and someone you can relate to is easy with online dating. 
FarmersOnly provides a service that caters to seniors. Whether you're a single farmer looking for someone who relates to you, or someone who loves the small-town life but really wants to meet new people, it's easy to find like-minded seniors on FarmersOnly. 
Our platform allows single seniors to interact, chat, and get to know each other online before committing to meeting in person. 
Is Online Dating Safe for Single Seniors? 
Our number one goal at FarmersOnly is to help our members find love safely. Not only can you meet people in your surrounding area, but it's always good to be on the lookout for any potential scams while searching for love. 
Always keep the following in mind:
Never give out money or reveal your personal financial information

Be cautious of people who never decide to use video chat or meetups

Keep your communication on the site until you really trust them

When it's time to physically meet, meet in a public place

Ask someone you're close with to be your "safety buddy" — make sure they know where you are and to call during your date
Senior Dating Is Easier Than Ever With FarmersOnly
If you're leaving it strictly up to fate to help you find your perfect match, you may be missing out on love. It's time to stop the waiting game. FarmersOnly gives senior singles the perfect platform to meet people with similar interests and values within your preferred area.
Our website is fun and easy to use. We specialize in connecting like-minded senior singles because we know how difficult it can be to meet "the one" when your interactions with new people become fewer and farther between. 
FarmersOnly can be used as a senior dating site to make finding a companion easy. All you have to do is register and start browsing singles in your area. It doesn't get easier than that!