Christian Dating: Finding Christian Singles in the United States
You've tried dating the people your friends from church hooked you up with. You've been praying for someone to come along and knock you off your feet. It's just never worked. 
The dating pool in your circle is limited, to say the least — and you're really hoping that you'll be brought closer to God and closer to someone who has the same values as you sooner rather than later. 
At FarmersOnly, our goal is to change how Christian singles view dating — we want to make it as fun and enjoyable as it should be.
Our platform takes the pressure off while giving Christian singles living in rural areas the opportunity to find the love they've been praying for. Ready to learn more? Keep reading.
Why Is Finding Christian Singles So Hard?
Human relationships can be overcomplicated. There are massive industries today based on understanding body language, nuance, and subtlety — all because people don't know what other people want.
The imaginary "dating rulebook" makes relationships even more complicated. Expectations can be too high. No two relationships are the same, and all relationships are fraught with different issues. 
Add in trying to find someone who has the same Christian beliefs, values, and faith as you, and it can feel exhausting and impossible. 
But don't lose hope. 
Online dating for Christians is becoming increasingly popular for this reason. 
What Is FarmersOnly Doing for Christian Singles?
FarmersOnly is dedicated to connecting Christian singles through our innovative online dating platform.
Not only can you browse singles in your area, but you can converse and flirt online, making it easy to get to know your potential matches before ever meeting in person.
No more wasting time meeting the person your best friend couldn't wait to introduce you to, and no more searching the internet for Christian dating apps. With FarmersOnly, Christian singles can date outside of their immediate area, or search for locals, without leaving the house. 
FarmersOnly allows Christian singles to broaden their search, finding those with the same faith and similar values — the man or woman of your dreams! 
See Our Christian Dating Success Stories
Our Christian dating success stories speak for themselves.
Take Chanel and Galen, for example, who met through FarmersOnly after praying to God to help her find the right person.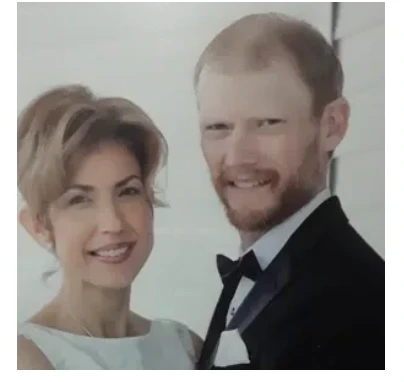 We have connected hundreds of Christian couples, helping them bond over their faith and their passion for life. Whether you've been praying to find your perfect match or you're newly single, our clients love the experience they receive when they join FarmersOnly.
A Step-by-Step Guide to Christian Dating
If you're ready to try Christian dating online with FarmersOnly, here's how you can get started: 
Set up your free account with FarmersOnly: After registering with FarmersOnly, you'll be free to browse our database of singles before you select the dating package that works for you. 

Create your perfect profile: This can be the fun part! It's your time to shine and really show what you have to offer! Your profile is your first impression, so be honest and share all the wonderful things that make you, you. Pick a profile picture that reveals your personality.

It's time to start browsing Christian singles: After you've completed your profile, it's time to browse singles in your area. Log in to FarmersOnly to begin your search!

Send a flirt or start a conversation: With FarmersOnly, small talk doesn't have to be a part of the picture immediately. Send and receive flirts, and indulge in conversations. Nothing is holding you back now!

Get to know your potential love match: You've made a connection and now it's time to learn a little more about your potential match. Our members spend weeks, even months, getting to know each other online before speaking or meeting in person. Others decide they want to meet right away. You have complete control.

Have your first conversation: Connecting online is wonderful, but there will come a time when you want to hear the voice of the person you've been spending so much time chatting with online. Take things a bit further and schedule a video chat or phone call to feel a little bit more connected with each other. 

Go on a date: You've conversed online. You've spent hours on the phone. You get butterflies right before your match picks up your video call. Finally, it's time to meet in person. Don't stress over your first date. We recommend doing something that excites you both, like attending a bible study or a night out on the town. 
For Christian singles, online dating has never been more fun. Register for your free membership and start browsing singles in your rural area today.
Christian Dating FAQs
What Is the Best Christian Dating Website?
We aren't the ones to brag, but we think FarmersOnly is the best Christian dating site. Why? It's simple. 
For starters, our singles love our easy-to-use platform. From setting up your profile to sending flirts and connecting in our chat rooms, FarmersOnly makes it easy to date online.
But most importantly, we have so many Christian singles registered and waiting to find love. With such a huge database of Christian singles, it's easy to meet and get to know people in your area.
How Is Christian Dating Easier Online?
Unfortunately, North America doesn't have a history of hiring "matchmakers" like in other countries — how much easier would that be? And although you've met wonderful people in your town, and at church events, it's hard to meet new people. Online dating makes communicating and meeting other Christian singles easier than ever.  
FarmersOnly provides a service that caters to a rural Christian lifestyle. Whether you're a farmer or you just love the feel of your small-town life and want to continue living that way, it's easy to find like-minded, Christian singles on FarmersOnly.
Our platform allows singles to meet, chat, and get to know each other online before committing to meeting in person. 
How Many Potential Matches Exist in My Area for Christian Singles?
Meeting people with the same religious views as you can be difficult for more reasons than one. You're not interested in church hopping, so how do you meet other Christian singles near you?
With FarmersOnly you can branch out to surrounding areas without making a trip. You can log in, browse Christian singles within your desired radius, and start conversations. 
Suddenly you have more options than you could have thought possible!
Dating for Christians Is Easier Than Ever With FarmersOnly
It's time to stop waiting for that perfect person to magically show up in town one day. FarmersOnly gives rural, Christian singles the perfect platform to meet people with similar interests and values within your preferred area.
Our website is fun and easy to use. We specialize in connecting rural and country singles because we know how difficult it can be to meet "the one" when you have so few neighbors with the same views as you, to begin with.
Simply register and start browsing. It doesn't get easier than that!